Image – Diego de Sanabria 16thC
Ordained a Carmelite priest in 1567 at age 25, John met Teresa of Avila and like her, vowed himself to the primitive Rule of the Carmelites. As partner with Teresa and in his own right, John engaged in the work of reform, and came to experience the price of reform: increasing opposition, misunderstanding, persecution, imprisonment. He came to know the cross acutely—to experience the dying of Jesus—as he sat month after month in his dark, damp, narrow cell with only his God.
John is unique as mystic-poet, expressing in his prison-cross the ecstasy of mystical union with God in the Spiritual Canticle.His prose works are outstanding in underscoring the cost of discipleship, the path of union with God: rigorous discipline, abandonment, purification. Uniquely and strongly John underlines the gospel paradox: The cross leads to resurrection, agony to ecstasy, darkness to light, abandonment to possession, denial to self to union with God. If you want to save your life, you must lose it. John is truly "of the Cross." He died at 49—a life short, but full.
---
The Presence of God
"Come to me, all you who are weary and are carrying heavy burdens, and I will give you rest." Here I am, Lord. I come to seek your presence. I long for your healing power.
Freedom
"In these days, God taught me as a schoolteacher teaches a pupil" (Saint Ignatius).
I remind myself that there are things God has to teach me yet, and I ask for the grace to hear those things and let them change me.
Consciousness
Help me, Lord, to be more conscious of your presence. Teach me to recognize your presence in others. Fill my heart with gratitude for the times your love has been shown to me through the care of others.
The Word
God speaks to each of us individually. I listen attentively, to hear what he is saying to me. Read the text a few times; then listen.
Matthew 11:11–15
Jesus said, "Truly I tell you, among those born of women no one has arisen greater than John the Baptist; yet the least in the kingdom of heaven is greater than he. From the days of John the Baptist until now the kingdom of heaven has suffered violence, and the violent take it by force. For all the prophets and the law prophesied until John came; and if you are willing to accept it, he is Elijah who is to come. Let anyone with ears listen!"
• What was it that placed John the Baptist below the least in the kingdom of heaven? He had preached the justice of God and the need for repentance; but he had not lived to see Jesus crucified and, in that, to see the unbelievable extent of God's love for us.
• "If you are willing to accept it, he is Elijah . . ." Has God revealed anything to me lately that I felt unwilling to accept? When do we know that we are willing, or not willing, to receive God's revelation?
Conversation
Conversation requires talking and listening. As I talk to Jesus, may I also learn to be still and listen. I picture the gentleness in his eyes and the smile full of love as he gazes on me. I can be totally honest with Jesus as I tell him of my worries and my cares. I will open my heart to him as I tell him of my fears and my doubts. I will ask him to help me place myself fully in his care and to abandon myself to him, knowing that he always wants what is best for me.
Conclusion
I thank God for these moments we have spent together and for any insights I have been given concerning the text.
© Copyright 2017 Loyola Press. All Rights Reserved. Used with permission – https://www.loyolapress.com. https://www.ignatianspirituality.com

---
"Lord, let us see your kindness, and grant us your salvation."
---
---
On Gaudete Sunday (the 3rd Sunday of Advent), The Holy Father blesses the figurine of the Christ Child that will be placed in the Nativity Scene in St.Peter's Square. The people of Rome and visitors to the Eternal City are invited to bring their own figurines of the Christ Child from their home Nativity Scene to be blessed by the Pope on that Sunday.
You are invited to bring you figurines of the Christ Child on the 3rd Sunday of Advent (December 16/17) to be blessed at the beginning of each Mass.
---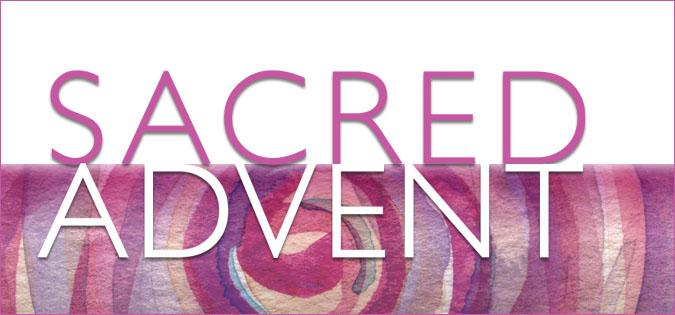 Laurie Marshanke writing at ignatiansprituality.com offers this Advent Examen:
"Begin by taking in a deep breath, taking in God's love, the light of Christ, the wisdom of the Holy Spirit. Exhale all your worries, your challenges, and your fears. During this time of Advent let us reflect on what we can do to prepare for the Lord.
1. Invite the Holy Spirit to help you see the day as the newborn baby Jesus sees it. What joy have you found today? Where have you felt God's love? What have you done today to prepare the way for Jesus being born into this world for you?
2. Now think about your day as if looking at it through the eyes of a child; what do you see? Did something surprise you? Was it something someone said to you or something you are grateful for? What did you recognize as gifts (thinking about the gifts of gold, frankincense, and myrrh brought to Jesus)? Thank God for the gifts he has given to you today.
3. Take a moment to reflect on the times today when God was especially present to you. Recognize your feelings in those moments. How did you prepare your heart for God's presence in the coming of Jesus? Where did you feel God's loving arms wrapped around you the way Jesus felt Mary's arms? How did you prepare yourself to experience God's love, forgiveness, and hope?
4. Now take a moment to think about the times when God seemed to be hidden. Where did you struggle to see the Messiah in your life—the way some failed to recognize the birth of the Messiah when Jesus was born? When may you have seen the need for love and didn't respond (maybe like the innkeeper), or the opportunity for forgiveness and you walked away? How was your heart prepared? Ask God to forgive you for anything that moved your heart away from God's love and recognizing the birth of Jesus in you. And ask God to help you to open your heart and become the person that God created you to be.
5. Finally, prepare for the hope of Jesus Christ in your life. Think about what you are hopeful for, what you are looking forward to during Advent and the Christmas season. Is your hope like that of a child on Christmas morning? What gifts will you share to be hope for someone else? Ask God to bless all in your life as you prepare the way of the Lord, and ask God to be with you today and every day."
© Copyright 2017 Loyola Press. All Rights Reserved. Used with permission – https://www.loyolapress.com. https://www.ignatianspirituality.com

---
Courtesy of Ignatianspirituality.com and Loyolapress.com , come these prayers for the lighting of Advent Candles:
First Week:
All-powerful God, increase our strength of will for doing good that Christ may find an eager welcome at his coming and call us to his side in the kingdom of heaven, where he lives and reigns with you and the Holy Spirit one God, forever and ever.
AMEN.
Second Week:
God of power and mercy open our hearts in welcome. Remove the things that hinder us from receiving Christ with joy so that we may share his wisdom and become one with him when he comes in glory, for he lives and reigns with you and the Holy Spirit, one God, forever and ever.
AMEN.
Third Week:
Lord God, may we, your people, who look forward to the birthday of Christ experience the joy of salvation and celebrate that feast with love and thanksgiving. We ask this through Christ our Lord.
AMEN.
 Fourth Week:
Father, all-powerful God, your eternal Word took flesh on our earth when the Virgin Mary placed her life at the service of your plan. Lift our minds in watchful hope to hear the voice which announces his glory and open our minds to receive the Spirit who prepares us for his coming. We ask this through Christ our Lord.
AMEN.
© Copyright 2017 Loyola Press. All Rights Reserved. Used with permission – https://www.loyolapress.com.  https://www.ignatianspirituality.com

---
Through the generous contribution of an anonymous donor, our Parish is now subscribed to the online  Catholic educational resource known as FORMED. FORMED offers multiple talks, video presentations, sacramental enrichment programs and other exciting materials to help Catholics of all ages acquire a more enriched understanding of the Catholic Faith. FORMED is available to all members of our parish  free of charge. When you visit the FORMED website (www.formed.org), please register by submitting your email address and inputting our parish code to access the FORMED website. The Parish Registration Code may be found in this week's Bulletin for the 1st Sunday of Advent.  Please also refer to the handout in this weekend's bulletin for additional information about FORMED.
---
As has become our tradition, Fr Siray will again offer special candlelit  Rorate Masses this Advent, at 7:00am on Saturday December 9, 2017 and at 7:00am on Saturday December 16, 2017. Both Masses will take place at St Bernard's Church.
A women's choir will sing for the first Mass and a men's choir will sing for the second Mass.
Because the church is only lit by candles, it is too dark to read a printed  program. For those who are interested, we have put all of the music for those Masses, with links when possible, here on the website on the Music Page.
Please Note -t he usual usual 8:00 am Saturday Morning Mass will be cancelled on  December 9 and 16.
---
Please join us for an unforgettable evening on Sunday December 17 at 7:00 pm at Our Lady of the Assumption Church for Nine Lessons and Carols, an old advent tradition of Scripture and Carols that will prepare our hearts and minds for Christmas. The music will be provided by the three wonderful Saint John Choir Schola children's choirs, directed by Malcolm Edwards and Mary Lynn Schmidt, with the honourable John Vandenbeld as organist.   All are welcome
---
Feast days for the coming week:
Sunday – Dec.10 – Bl. Adolph Kolping
Monday – Dec.11 – St. Damasus I
Tuesday – Dec.12 – Our Lady of Guadalupe
Wednesday – Dec.13 – St.Lucy
Thursday – Dec.14 –  St. John of the Cross
Friday – Dec.15 – Bl. Mary Frances Servier
Saturday – Dec.16 – Bl. Honoratus Kozminski
HAC for Fr.Nathan
---
We have added a page with a selection of Prayer Cards for your enjoyment and use. These may be accessed from the main page menu, or from this link.
These cards are in Adobe PDF format, and will require a PDF viewer  for viewing and printing.
---
HAC for Fr.Nathan – image – courtesy and used with permission – www.freebibleimages.org – copyright  LUMO Project
Called to hear and obey the Word of God
John broke the prophetic silence of the previous centuries when he began to speak the word of God to the people of Israel. His message was similar to the message of the Old Testament prophets who chided the people of God for their unfaithfulness and who tried to awaken true repentance in them. Among a people unconcerned with the things of God, it was his work to awaken their interest, unsettle them from their complacency, and arouse in them enough good will to recognize and receive Christ when he came. Are you eager to hear God's word and to be changed by it through the power of the Holy Spirit?
Jesus tells us that John the Baptist was more than a prophet (Luke 7:26). John was the voice of the Consoler who is coming (John 1:23; Isaiah 40:1-3). He completed the cycle of prophets begun by Elijah (Matthew 11:13-14). What the prophets had carefully searched for and angels longed to see, now came to completion as John made the way ready for the coming of the Messiah, God's Anointed Son, the Lord Jesus Christ. With John the Baptist, the Holy Spirit begins the restoration to the human race of the "divine likeness", prefiguring what would be achieved with and in the Lord Jesus.
Let the Holy Spirit purify and transform your mind and heart
John's baptism was for repentance – turning away from sin and taking on a new way of life according to God's word. Our baptism in Jesus Christ by water and the Spirit results in a new birth and entry into God's kingdom as his beloved sons and daughters (John 3:5). The Lord Jesus comes to baptize each one of us in his Holy Spirit so that we may walk in his truth and holiness and radiate the joy of the Gospel to all we meet. God's word has power to change and transform our lives so that we may be lights that point others to Jesus Christ. Like John the Baptist, we too are called to give testimony to the light and truth of Christ. Do you point others to Jesus Christ in the way you live, speak, and treat others?
Daily Quote from the early church fathers:  The voice of the one crying in the wilderness, by Theodoret of Cyr 393-466 A.D.
"The true consolation, the genuine comfort and the real deliverance from the iniquities of humankind is the incarnation of our God and Savior. Now the first who acted as herald of this event was the inspired John the Baptist. Accordingly, the prophetic text proclaims the realities that relate to him in advance, for that is what the three blessed Evangelists have taught us and that the most divine Mark has even made the prologue of his work. As for the inspired John, whom the Pharisees asked whether he himself was the Christ, he declared on his part: 'I am the voice of one crying in the wilderness, Make straight the way of the Lord' as the prophet Isaiah said (John 1:23; Isaiah 40:30); I am not God the Word but a voice, for it is as a herald that I am announcing God the Word, who is incarnate. Moreover, he refers to the Gentiles as the 'untrodden [land]' because they have not yet received the prophetic stamp." (excerpt from COMMENTARY ON ISAIAH 12.40.3)
Reflections courtesy of and used with permission – www.http://dailyscripture.servantsoftheword.org
---
There will be a time of Eucharistic Adoration on the First Friday of every  month. It will take place at Our Lady of the Assumption Church following the 9:00 am Mass and end with Benediction of the Blessed Sacrament at 11:00 am. All are welcome to join us for a time of silent prayer and adoration before Our Eucharistic Lord.
---
"Lord, let your light burn brightly in my heart that I may know the joy and freedom of your kingdom. Fill me with your Holy Spirit and empower me to witness the truth of your Gospel and to point others to Jesus Christ."
HAC for Fr.Nathan

---