images – courtesy and used with permission – www.freebibleimages.org – copyright LUMO Project
---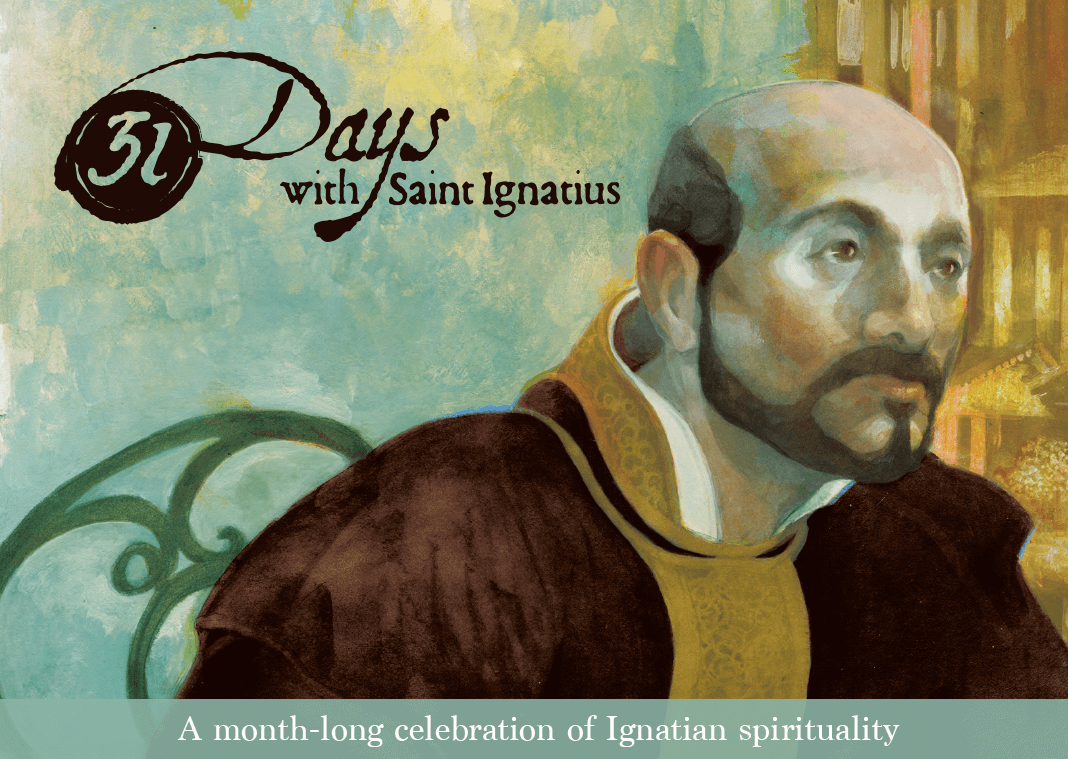 From Dot Magis
"Welcome to the 10th-annual 31 Days with St. Ignatius, a month-long celebration of Ignatian spirituality. In honor of the feast of St. Ignatius Loyola on July 31, we offer a selection of articles, blog posts, and videos to help you explore the riches of Ignatian spirituality."
The 31 Days with St. Ignatius may be found HERE:
---
As  we begin the summer season, and as this is the last parish bulletin until September, it is an excellent time to
express my appreciation to the whole parish for all that has happened since our arrival in November. My first word of thanks goes to all of you, who have done so much to help the new priests feel welcome and settle in I can say with confidence you have succeeded! So many offers of generosity, of hospitality and cheerful gifts of help. You have filled our bellies and made us smile.
Around our churches there have been so many who have contributed to the well being of our prayer and our prayer
spaces. There have been teams that have looked after beautifying the spaces, the sacristy and the care of our sacred
items, vestments, and accessories, teams that looked after frozen pipes, and leaky roofs,  people who go on trimming,
fixing, weeding, mowing, and gardening. There are teams that continue to look after the needs of celebrating good
liturgy through service, music, and proclamation, those who continue to offer hospitality to foster fellowship following
Mass. There are teams who have helped train and form and support youth to prepare for their sacraments and
helped at the various rituals that followed there are many who have organized acts of service and fundraising for the
well being of the parish and those in need there are humble teams who assist in feeding the poor week after week.
Throughout our parish district there are many families who bring the next generation into our midst breathing life and
hope into our parish community. There are elders who share their memories, wisdom, and guidance.   In all of this we see a living parish a community of families that are bound together by baptism, belief, and union with Christ through the sacraments.
It is early, but as the last publication before August, I express a warm word of deep gratitude to Fr Valentine Suum,
who has served faithfully and happily alongside me in partnership providing me with the ability to respond to the
bishop's call into active ministry earlier than originally expected. As I have been called to continue with this parish as pastor, I am looking forward to sharing life with you here in service, ministry, friendship, and as Christian family.
Have a blessed and happy summer!
Fr. Matthew Emmelkamp
---
Please note that the Parish Office Hours for the Summer  will be on the weekdays for the public on Wednesdays, Thursdays and Fridays, but only from 9 30 am until noon, 12 00 pm.
Please continue to visit our website at www.stbernardsparish.ca for updated news.
Happy Summer everyone!
---
The following changes will be made to the weekly schedule during July and August:
• There will be no Eucharistic Adoration or confessions after the Tuesday evening Mass at St Bernard's
• There will be no First Friday Adoration at Our Lady of the Assumption
• The Saturday morning Mass at St Bernard's will be cancelled on July 20 & 27, August 3, 10& 17
Saturday morning Mass will resume on August 24.
• Eucharistic Adorations will resume to their normal schedule starting the first week of September
---
There is a great need for READERS or LECTORS for the 11 00 am Mass at Our Lady of the Assumption. We currently only have 4 volunteer readers on this team, and we could benefit from 4 more helpers to round out the schedule and team. Young people who have been confirmed are encouraged in a special way to join If you are willing or able to volunteer for the Ministry of Lectors, then please speak to our coordinator Monique Tobicoe, or contact her at pmtobicoe@telus net .
---
Fr. Valentine will be on holidays from June 19 to July 17.  Fr Matthew will be on Holidays from July 20 to August 20.
Farewell for Fr Valentine Suum will be the weekend of July 26 27.  Please help express our gratitude for his ministry and support
these past few months.
---
Current Announcements from the Diocese Catholic Pastoral Centre may be read HERE:
---
Feast days for the coming week:
Sunday – July 14 – St. Kateri Tekakwitha
Monday – July 15 – St. Bonaventure
Tuesday – July 16 – Our Lady of Mount Carmel
Wednesday – July 17 – St. Francis Solano
Thursday – July 18 – St. Camillus de Lellis
Friday – July 19 – St. Mary MacKillop
Saturday – July 20 – St. Apollinarus
---
We have added a page with a selection of Prayer Cards for your enjoyment and use. These may be accessed from the main page menu, or from this link.
These cards are in Adobe PDF format, and will require a PDF viewer  for viewing and printing.
---
God's love and mercy extends to all
Jesus told a parable to show how wide God's love and mercy is towards every fellow human being. Jesus' story of a brutal highway robbery was all too familiar to his audience. The road from Jerusalem to Jericho went through a narrow winding valley surrounded by steep rocky cliffs. Many wealthy Jews from Jerusalem had winter homes in Jerico. This narrow highway was dangerous and notorious for its robbers who could easily ambush their victim and escape into the hills. No one in his right mind would think of traveling through this dangerous highway alone. It was far safer to travel with others for protection and defense.
Our prejudice gets in the way of mercy
So why did the religious leaders refuse to give any help when they saw a half-dead victim lying by the roadside? Didn't they recognize that this victim was their neighbor? And why did a Samaritan, an outsider who was despised by the Jews, treat this victim with special care at his own expense as he would care for his own family? Who was the real neighbor who showed brotherly compassion and mercy? Jesus makes the supposed villain, the despised Samaritan, the merciful one as an example for the status conscious Jews. Why didn't the priest and Levite stop to help? The priest probably didn't want to risk the possibility of ritual impurity. His piety got in the way of charity. The Levite approached close to the victim, but stopped short of actually helping him. Perhaps he feared that bandits were using a decoy to ambush him. The Levite put personal safety ahead of saving his neighbor.
God expects us to be merciful as he is merciful
What does Jesus' story tell us about true love for one's neighbor? First, we must be willing to help even if others brought trouble on themselves through their own fault or negligence. Second, our love and concern to help others in need must be practical. Good intentions and showing pity, or empathizing with others, are not enough. And lastly, our love for others must be as wide and as inclusive as God's love. God excludes no one from his care and concern. God's love is unconditional. So we must be ready to do good to others for their sake, just as God is good to us.
Quote from the early church fathers:  God desires to be our neighbor, by Augustine of Hippo, 354-430 A.D.
"God our Lord wished to be called our neighbor. The Lord Jesus Christ meant that he was the one who gave help to the man lying half-dead on the road, beaten and left by the robbers. The prophet said in prayer, 'As a neighbor and as one's own brother, so did I please ' (Psalm 34:14 ). Since the divine nature is far superior and above our human nature, the command by which we are to love God is distinct from our love of our neighbor. He shows mercy to us because of his own goodness, while we show mercy to one another because of God's goodness. He has compassion on us so that we may enjoy him completely, while we have compassion on another that we may completely enjoy him. (excerpt from CHRISTIAN INSTRUCTION 33)
Text and reflections, courtesy and used with permission – http://dailyscripture.servantsoftheword.org

---
"Lord Jesus, may your love always be the foundation of my life. Free me from every fear and selfish-concern that I may freely give myself in loving service to others, even to the point of laying my life down for their sake."
---
There will be a time of Eucharistic Adoration on the First Friday of every  month. It will take place at Our Lady of the Assumption Church following the 9:00 am Mass and end with Benediction of the Blessed Sacrament at 11:00 am. All are welcome to join us for a time of silent prayer and adoration before Our Eucharistic Lord.
---